Written for LJ nekid_spike community.

Title: Spiritual Visit
Setting: Season Six - Bargaining
Characters: Buffy, Spike, Dawn
Rating: G
Disclaimer: Not Joss, just me, no money, just love.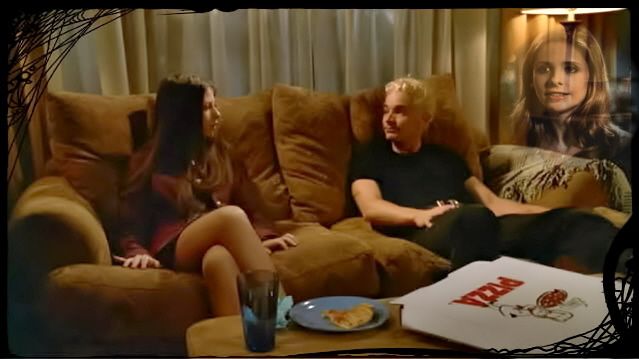 Spike watched as Dawn painted his nails. He sat very still so she could focus on her task.
She chewed on her lower lip as she concentrated. It reminded him of Buffy. So serious
and determined to do it just right. His bitty Buffy…she was all he had that remained of her.

The Scoobies had some important hush hush mission tonight. Dawn didn't care since she
loved spending time with Spike. He treated her like an equal. They treated her like a dumb
kid who didn't know what went bump in the night.

They had eaten pizza and drank beer. Well, Spike had some stinky dark beer from
Germany while Dawn had root beer. She had wanted to watch Cruel Intentions because
she had heard it was kinda dirty. Spike had vetoed that quickly. He voted for House On
Haunted Hill. Dawn rolled her eyes at that. So they settled for Galaxy Quest. They ate
pizza and laughed as they watched the movie.

Buffy sat in the armchair facing them. At first she had been upset that they didn't know
she was there. Then she realized they couldn't see or hear her. So she just sat and
watched them. As they argued about the movies, she laughed. She wasn't surprised
that they seemed so comfortable together. It wasn't long before they both fell asleep
on the couch.

Buffy leaned over Dawn to kiss the top of her little sister's head. Dawn shifted in her
sleep, but didn't wake up. So she turned toward Spike. He looked very tired and his
hair gel had given up the fight to control his stubborn curls. He would hate it if he
knew she had seen him like that. Buffy ran her fingers down his cheek and he leaned
into her touch. His eyes popped open and quickly looked around. He went toward the
window to see what the noise was outside.

His movements woke up Dawn. She followed him to the window. Buffy started toward
the window as well, but something pulled at her. She felt herself rush out of the room
and off into the dark night. Suddenly she was in a tight space. Buffy couldn't see very
well because it was as dark as a tomb. She began to scream and beat against the walls
she couldn't see. Finally her hand broke throughto the surface and she swallowed in
the fresh air.
Current Mood:

determined